Description
Hi-Tech Stimerex Hardcore 90 capsules  Oryginal Formula!!
Very low quantity available!!!!
WE SHIP INTERNATIONAL!!!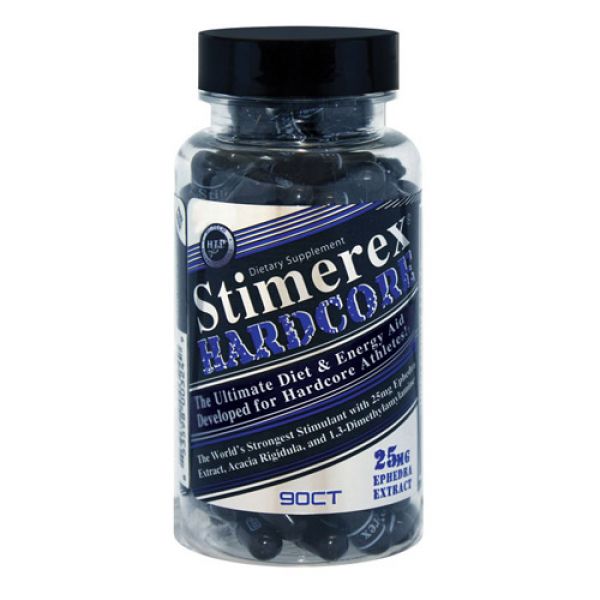 Hi-Tech Pharmaceuticals Stimerex Hardcore 90 Caps
The Go-Go Fat Burner with Ephedra Extract and 1,3 DMAA!
Love Stimerex, but want to take it to the next level? Welcome Stimerex Hardcore! The new hardcore formula gives you everything you love about the original, but with more ingredients and more of each ingredient! This is the formula if you don't only want to lose weight, but you want that rush of energy feeling right after the first dose! This is absolutely one of the most potent fat loss energy supplements available with no crash!
Benefits & Results of Stimerex Hardcore
So what you should expect from taking Stimerex Hardcore?
Extreme Fat Loss & Calorie Burning
Warming Sensation Through Your Body
Positive & Happy Mood Boosting
Users are seeing anywhere from 5-15lbs lost after using just one bottle!
For Women?
While Stimerex helps you lose weight everywhere in your body, yohimbe extract (improved lipolysis) is included in this product. Now yohimbe extract works really well for women too, especially in the areas of the:
Why Does Stimerex Hardcore Work So Well?
It's the ingredients. Like the original, this contains 1,3 DMAA…a very strong stimulant that provides some serious weight loss. But with the new hardcore version, you get an even heavir dose of it. This also contains 25mg Thermo-Z ephedra extract, which users continue to love and swear by for weight loss. Other ingredients include phenylethylamine alkaloids, green tea extract (EGCG), and the xanthines theobromine and caffeine as beta-2,3 adrenergic receptor agonists to promote increased breakdown of fat into fatty acids and glycerol –otherwise known as lipolysis – and the mobilization of fat along with promoting thermogenesis, all of which leads to the accelerated burning of fatty acids that enter the bloodstream from improved lipolysis and fat mobilization.
In the end, Hi Tech uses only cutting-edge quick release technology for all it's ingredients which means more of the active ingredients hit your body to turn your body into a fat burning machine!
Stimerex Hardcore Vs. Original Stimerex
This is a common question. Which formula to go with. Now Stimerex Original is a huge seller for us, so why buy the Hardcore formula instead? There is one big difference. The ingredients are similiar, with with the original version you won't 'feel' it working like the Hardcore formula. This one you are going to get that warming sensation and a quick energy boost…you WILL know it's working right when your taking it!
Directions / Dosage
Take 1 capsule up to 3x per day. To access tolerance Hi Tech recommends you start with 1 capsule in the morning and 1 capsule in the afternoon. Can be taken with or without food. Do not exceed 4 capsules in 24 hours.
Warnings & Side Effects
Consult with your healthcare physician before taking.  Keep out of reach of children.  Do not take if you are nursing, pregnant, or may become pregnant.  Do not exceed 4 tablets daily.  Do not use for more than 8 weeks.  Individuals who consume caffeine with this product may experience serious adverse health effects.  Improper use of this product may be hazardous to a person's health.  Exceeding recommended serving may cause serious adverse health effects, including heart attack and stroke.